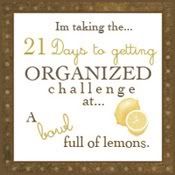 Today's challenge was the mail station. You can read about it
here
. My mail and any paperwork goes straight to the office, which is such a horrific mess that I decided I would try to organize everything else in my house before even starting in there!
So today, I finished off the rest of the drawers and cabinets in my kitchen. Now it's completely done! Well, except for cleaning under the refrigerator and stove, and cleaning the oven. I'll have to make time for those this weekend.
I have fourteen drawers in my kitchen. This is the last seven drawers before I started:
Some of them weren't too bad, but they all benefited from a good dose of organization!
These were the only two cabinets left to do:
And after:
Not a lot changed here, but boy, did they ever need cleaning!!
This is shaping up to be a very good January for my house!!