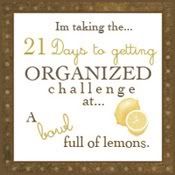 I really intended to just skip this room. We're planning to remodel it this spring - paint, add a window, new floor covering, move things around a bit, the whole nine yards. So I thought, "What's the use?" But then, I've been stuck at home the past three days and spent just enough time in there that I could stand it not longer!!
So the pics may not show a lot of change, but at least I know it's clean and as organized as it can be at this point.
Here are the before pics:
Not sure why two people need so many coats and sweaters, but I'll worry about getting rid of some of these after spring gets here!
Yes, that's bug poison and spray paint in the reach of children!! I should know better, expecially with my grand children.
And after:
I may be in trouble for this one - I just tossed most everything!
Not much change here, except all the hats are actually on the hat rack!
All cleaned up and ready to work!!
Note the lack of shelves - yet
again
!
Not too much change here either, but I did move some stuff that belonged elsewhere.
The top basket is laundry items, the second is gloves, mittens, sock hats and umbrellas. I use the orange bucket when I mix up my homemade laundry detergent, which I haven't done for a while, but plan to do in the near future. So I'll keep the bucket for now.
Now on to what I really
need
to be doing!!