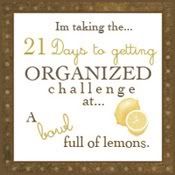 NO WAY, JOSE!
AIN'T HAPPENING!!
NO,NADA!!!
NOT DOING IT!!!!
CAN'T MAKE ME!!!!!
It can't be done in a day, not even a week, probably not even in a month!!
I'll give myself until next January. I'm going to have to set up a day when my mom is here in April, and get her and my sister to help me identify who all is even in these pictures!!
But, I have found every last loose photo in the house . . . .
. . . . and I now have these three boxes full of old photos . . . .
. . . . that need to go in albums like these . . . .
. . . . but it won't be happening today!!
So the pics, in these nice storage boxes, will be added to the row of boxes on the top shelf of my newly organized
master closet
.
I scrounged around and found these . . . .
. . . . because I'm pretty sure my dear hubby is going to have to add more support to the shelf before the boxes of pics can even go up there!!
Happy Organizing!!