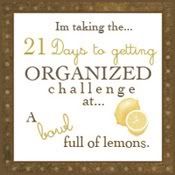 It's really great to have all this storage, except when it looks like this:
Note the empty mouthwash bottle above. Why is that still there???? No earthly idea, but it's been empty for a couple weeks now.
And once again, in the above and below pics, notice the lack of shelves! I don't understand.
And here's our toothbrush and such drawer. Thought I'd throw it in too for good measure!
And after!!
I put all the extra shampoo, conditioner, lotions and bars of soap together on the top shelf, along with a container with baby related items for when the grand kids are here and a container with travel toiletry items. Now when we have to go somewhere, it's ready to go.
I added some wire shelving to help out here. So much better now! No idea why I didn't do this sooner.
Added a shelf here too. And now, on the left, the band-aids and related items are in a container, ointments in another and other first-aid related items in the bottom container. The container on the right has lint rollers and such. The container under the shelf is the shoe shine kit.
I was able to get rid of this basket, as well as two bags of trash, one mostly filled with out of date medical/first-aid items!! I really should check this stuff more often.
And all this while I'm still not feeling well. Imagine what I could accomplish if I felt good!! I'm still behind a couple of days, but hopefully I'll get caught up this week.
Happy organizing, everyone!!