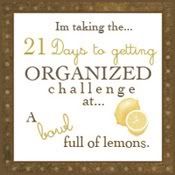 This is one of my most dreaded chores! I'm not sure why. I guess it's because I usually have so many containers with left-overs that have turned into moldy science projects! But this time was different - there wasn't one moldy container! I must be doing something right.
So here are pics of my main refrigerator before:
I took everything out, scrubbed it with hot soapy water, then put it all back.
After:
This is the frig in my "cake kitchen." The door shelves were a mess!!
And after:
Day 16 done!! Five more days to go.
Happy organizing!!