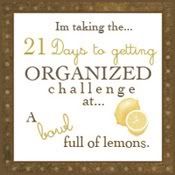 The last house we lived in had a walk-in pantry. Well, it was actually a small hallway off the kitchen leading to a second door to the bathroom that we converted into a pantry. We build a linen in the bathroom where the door was and then closed in the doorway on the hall side. But it was my pantry and I loved it.
In this home, I have a
ton
of kitchen cabinets and it has a full-length cabinet pantry. I don't like it as well as a walk-in pantry, but it works!
Here's a pic of that pantry before:
Kind of semi-organized. Here are the after pics:
Top doors: I plan to buy more of those stackable containers. I've decided I really like them.
Middle doors:
Bottom doors:
Notice all the alternative shelving. The bottom two sections of the pantry were basically just two big boxes. No shelves or anything! So I've improvised and added shelving as I've went along. I'm going to replace the bulky white shelf on the right for wire shelves asap.
This is the cabinet by my stove that houses my spices, oils, etc., things I use every time I cook.
Before pic:
And after:
This is the cabinet next to the frig where the breakfast foods live.
Before pic:
And after:
I'm going to get a container for the cereal next time I go to the store. And maybe a couple small stackable containers for the malt-0-meal and baby cereal.
This cabinet is for my canisters of flour, sugar, brown sugar, powdered sugar, rice and cornmeal. It's just above the counter where I usually do my mixing, so it's convenient.
Before pic:
And after:
Not a whole lot of change here since there's not a lot more I can do to it. But as least I know it's clean!
Well, that's it. I've made it through a week of organizing!! One-third of the way done. I just hope I can keep up with the rest of it!