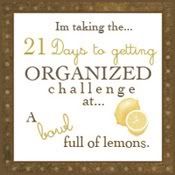 I got a bit over-ambitious on Day 7 when we cleaned our pantries, and did my spice cabinet as well!! So I won't have to make up quite so many days next week when I get to feeling better.
I already posted these pics on Day 7, but here they are again.
Spice cabinet Before:
And spice cabinet after:
My daughter-in-law was over last night and said she couldn't find anything in my newly organized closets and cabinets!!