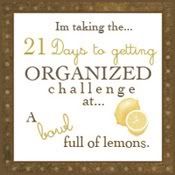 I'm on a roll. I've done two days of organizing today! I just have to make up Day 11 (The Freezer). Maybe tomorrow.
Today's challenge was cleaning under the bathroom sinks. Not a horribly big job for me here.
Here are my before pics:
Okay, that one was just a disaster!!
And this one, well, you would think with so few things under there, I could at least keep it neat!!
And after:
Much better! I decided to store my trash bags (Wal Mart bags) in a plastic shoe box. I have good intentions of making one of those bag holder thingies, but haven't made the time yet. Who knows, I just might like this better!!
Happy Organizing!! Only seven days to go!