I've linked this post to these blogs: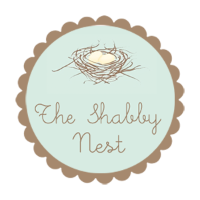 Thought I'd get a couple posts up and ready to go before this "storm of the century" hits us!!
As I've mentioned in previous posts, we've made a commitment to give "homemade" gifts for every occasion whenever possible. This past Christmas, I decided a couple of our grand kids needed toy boxes. I gave my husband the dimensions I wanted and a somewhat rough idea of what I wanted them to look like - I wanted them painted white and glazed, with painted letters.
Here's what we came up with:
I wanted the colors to coordinate with their bedroom decor, so Peyton's has brown letters and
Kami's
has green and pink letters.
The bead board was my husband's idea, so that there would be detail for the glazing. I like it!!
This one is Peyton's:
I think the letters could have been a bit smaller, but the next size down that I could find was too small.
And
Kami's
:
He used what he calls a piano hinge (don't know if that's the real name for it, or his name for it). Anyway, it won't slam with this hinge, so we don't have to worry about little fingers getting smashed.
This little thingy will keep the wood from rubbing together when the lid is closed and also keeps the gap even from front to back, which was
very
important to my husband!!
I'm loving how they turned out! And the mom's are loving the toy storage space. I see a more of these in our future!!