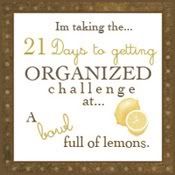 I wasn't going to do today's challenge since I don't have children with lots of toys at home anymore. But I do have a toy box for the grand kids, that, it turns out, really needed to be cleaned out!
Here it is before:
Here is an assortment of game pieces that should be elsewhere:
Here's a collection of dress up clothes that got tossed, along with a wig that the kids love to play with, but it loses hair everywhere:
And books that belong on the bookshelf. (It looks like somebody was in a hurry to get cleaned up the last time they were here!!)
Here's an assortment of broken toys, torn books and stuff that can't even remotely be called a toy!
Well, not a
huge
difference, but at least there's more room and all the junk is gone.
I got it all cleaned out just in time for this cute little toy-box dweller to climb in and have some fun!!
This is Peyton. He's having his first birthday party this Saturday!!
Nine days down, twelve to go!!