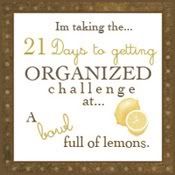 Well, today I played catch up again! I did my freezers. Yes, I have two of them. One side by side in my kitchen, and an upper in what I call my "cake kitchen."
Neither of them were bad, so it only took minutes. It helps when you've been putting off buying groceries for a couple of weeks!!
Here are my before shots:
I had already emptied the door when I realized I hadn't taken any pics.
After:
I didn't run to the store for any containers. Still need to do that.
You can't tell much difference, but it's
sparkling
clean!! And did you notice the ice sculpture in the above picture??? My ice maker has a slow leak, so this is what it creates every six to eight months!! I didn't feel inclined to chip it out tonight. Maybe tomorrow.
This is the other freezer:
I use it to freeze my cakes after they're baked. I let them cool a few minutes, then wrap them in plastic wrap and freeze them. It traps all that wonderful moisture inside the cake!
It just needed to have a few crumbs wiped out and a few stray items moved from the door shelves to the other freezer.
After:
It feels good to be caught up!! I'm ready for Day 16 tomorrow!!