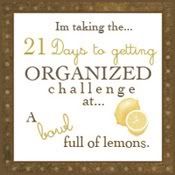 This one was a pretty easy one for me, so I got it over with early!
Neither my husband or I take any medications. We try to go the natural route unless it is absolutely necessary to go the pharmaceutical route. We do have allergy/sinus relief products in our cupboard and of course, Tylenol, Advil or some other sort of pain reliever or the occasional headache and/or fever. First aid supplies are kept in our bathroom.
So here is our medicine/vitamin cabinet before:
Definitely not very organized!
This basket sits just below the cupboard and it holds some of the vitamins/herbs that we take on a daily basis. But not everything.
So I took this opportunity to do a little rearranging to make things easier. The top shelf now holds what I call non-natural remedies, as you can see. On the bottom shelf, I have two white baskets, one in which I put my supplements and the other, my husband's. Mostly in these baskets are the Nature's Sunshine products we take. Hopefully this will make finding what we're both taking a little easier!!
I traded the metal basket for this wood box. In it are supplements we both start our day off with. We are Market America distributors and take their products, specifically
Isotonix
OPC
-3, Advanced B-Complex, Vitamin C, Multi-Vitamin, and Maximum
ORAC
. So now they're easy to find and they fit perfectly in this box, so they
should
stay neat. We'll see!
That white contraption is my water filter. It creates the perfect place for my dish soap and hand soap to hide!
Happy Organizing!!